Storytelling Resources for Secret Path Week
Since our team took our Secret Path boxed set out of its package, we've been big fans. The boxed set includes an album, graphic novel, and animated movie. Gord Downie and Jeff Lemire created a compelling retelling of Chanie Wenjack's story. Chanie escaped from residential school and attempted to journey home on a cold winter's night. Secret Path has had a tremendous impact on helping Canadians understand the impact of residential schools. It inspired us to create a resource kit, Storytelling and Secret Path. 
Storytelling and Reconciliation
When the publication first came out, our team created free classroom resources for educators across Canada. However, we recently discovered the Gord Downie & Chanie Wenjack Foundation's new Legacy Schools program through conversations with our friends there. We learned about the upcoming Secret Path Week. It led us back to the drawing board to see what else we could come up with. Daniel Corber from our in-house content team was one of the original authors of our Secret Path resources. Daniel used his social studies and English language arts background to develop a resource kit for middle school classrooms. The resource kit, Storytelling and Secret Path, helps educators show how we can use different types of storytelling to express ourselves and honour stories like Chanie Wenjack's.
"Storytelling is an important part of reconciliation," says Daniel. "The first step comes with listening to and understanding the experiences of residential school Survivors. When we talk about traumatic events, we share the experiences through words, facial expressions, whispers, and pictures. That is why I felt it was important to present these materials as a multimedia kit. It enables learners to read, listen, speak, write, and build media literacy skills in the context of this important topic. At the same time, learners practice opening their hearts to the stories around them, no matter what form they take."
Secret Path Week
October 17-22, 2018, is Secret Path Week. It's a national movement to commemorate the legacies of Gord Downie and Chanie Wenjack by encouraging schools and classes to take action and create a reconciliACTION. A "reconciliACTION" is a community-based event or activity fostering education, awareness, and understanding between Indigenous and non-Indigenous people.  
The Gord Downie and Chanie Wenjack Foundation hopes schools plan activities. Schools can share activities on social media using the hashtags #SecretPathWeek, #ReconciliACTION, and #DoSomething. The Foundation hopes the campaign drives broader awareness and creates school movements.
Storytelling and Secret Path Resources for the Classroom
We hope that our resource kit will help inspire educators to introduce Secret Path to their classes and share Chanie and Gord's stories with their learners. This kit blends opportunities for listening and learning with active participation, creating dialogue and fostering self-expression. We've even created an Educator Guide to help educators best integrate these resources into their instruction. The guide provides an overview of the learning objectives, resource-level instructional plans, material lists, classroom set-ups, and modification/accommodation ideas. It also includes extension activities. There are ideas for integrating novel studies, inviting guest speakers, and creating cross-curricular connections to continue learning. Finally, the guide includes additional links to create your own activities or explore with learners.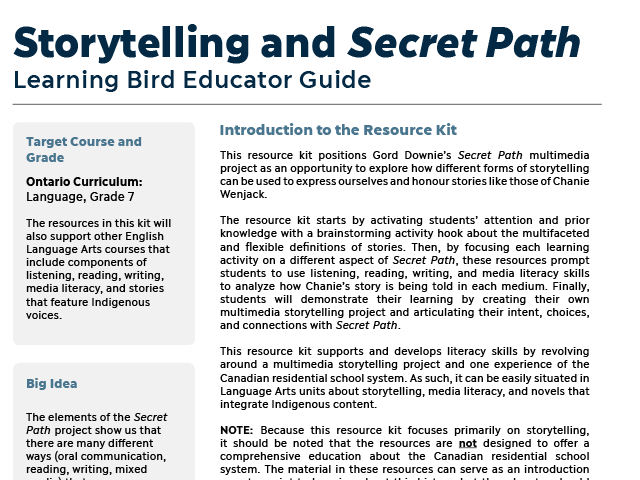 Download the Storytelling and Secret Path Educator Guide
Brainstorming Activity: What Are Stories?
The resource kit starts with a hook. It's a Brainstorming Activity entitled What Are Stories. This activity activates learners' prior knowledge. Learners will reflect on the definition and purpose of stories. The activity includes a full plan for best engaging learners and preparing them to work on storytelling projects like Secret Path.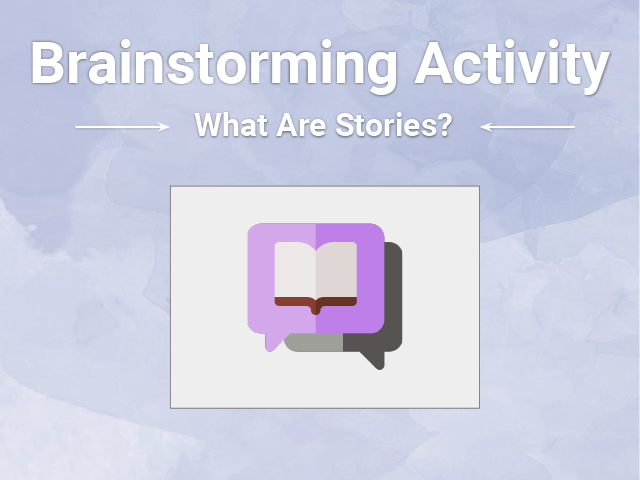 Download the "What Are Stories" brainstorming activity
Storytelling and Form
The second resource in the kit is a video, Storytelling and Form. This video introduces learners to the Secret Path project and discusses how different forms convey Chanie Wenjack's story.
Listening to the Secret Path: Song Analysis
The following resource is a video focusing on song elements to tell stories. It will help learners analyze Secret Path's songs and how they retell Chanie Wenjack's story.
Reading the Secret Path: Graphic Novels
The following resource focuses on reading. It introduces learners to graphic novels and discusses how they tell stories using words and pictures. This presentation helps learners create their own graphic novel essay about Secret Path.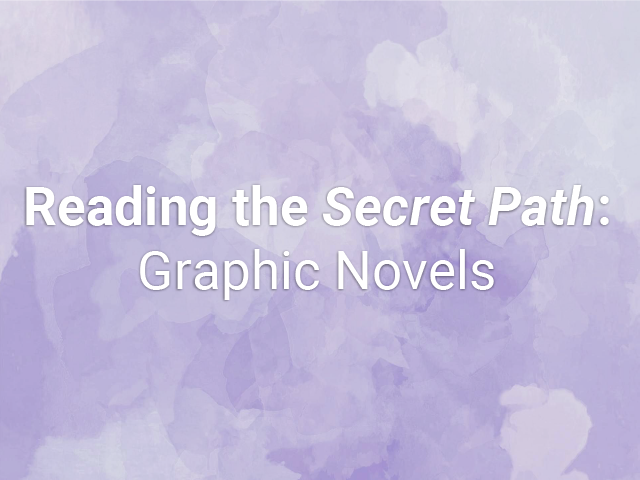 Download "Reading the Secret Path: Graphic Novels"
Writing About the Secret Path: Movie Review
The next activity in the kit provides learners with step-by-step instructions for watching the Secret Path animated movie and writing a review about its strengths and areas for improvement.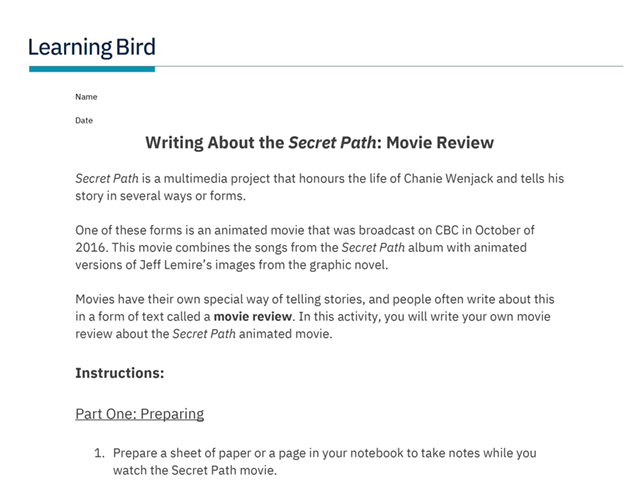 Download "Writing About the Secret Path: Movie Review"
Secret Path Language Activity: "The Stranger"
The next activity in the kit helps learners think about what it might feel like to lose language and how powerful it feels to get it back. This handout shows learners what it's like to suddenly lose access to words and how that impacts their communication ability.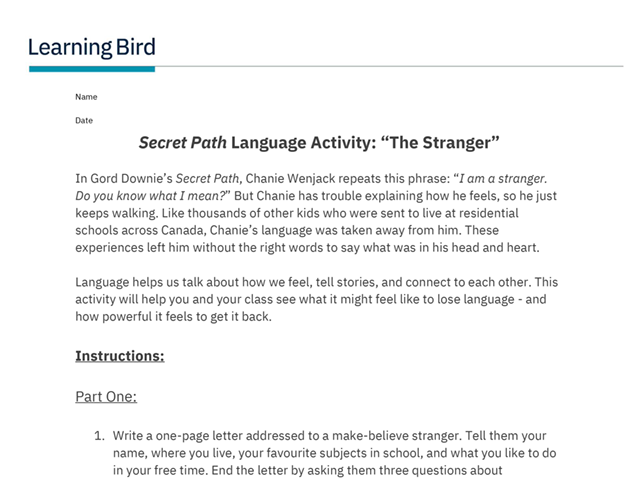 Download "Secret Path Language Activity: The Stranger"
Finding Your Own Secret Path: Storytelling and Self-Expression
The final resource in the kit asks learners to demonstrate their learning. They create stories using three forms of storytelling. First, learners will choose a story that's important to them. Then, they prepare to share it with the class using different storytelling techniques.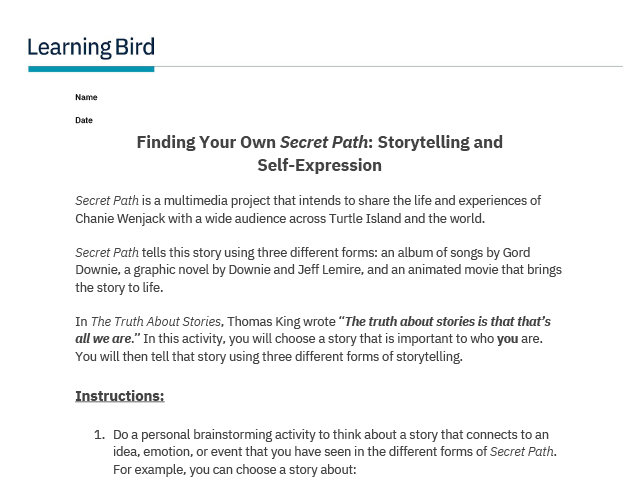 Download "Finding Your Own Secret Path: Storytelling and Self-Expression"
We hope you enjoy this resource kit and find it useful for introducing Secret Path to your classes. We'd love to hear how you use these resources and feedback on them.
Don't forget to tag your reconciliACTIONS using the hashtags #SecretPathWeek #ReconciliACTION and #DoSomething during Secret Path Week.