Discovering the Secret Path: Resources for the Classroom
During The Tragically Hip's last public concert, lead singer Gord Downie called out Canadian Prime Minister Justin Trudeau for how Canada treats Indigenous people. Thanks to the national broadcasting of the concert, Downie's message spread and met with cheers from coast to coast. As one of Canada's most revered and well-respected musicians, Downie has consistently been vocal throughout his career around important issues. Over the past few years, Downie worked on the Secret Path project to bring the story of Chanie Wenjack, a twelve-year-old boy who died more than 50 years ago trying to make his way home from Cecilia Jeffrey Indian Residential School to the world. Chanie embarked on a 600-kilometre trek on a cold and dark night in late October.
Downie's inspiration was a Maclean's article from the 1960s that his brother Mike passed him. Downie penned stories in poetry form and transformed these into powerful songs that convey Chanie's journey. Jeff Lemire, a talented comic artist who created a graphic novel to depict the project visually, brought these words to life. The final package, called Secret Path, includes a ten-song album and an 88-page graphic novel. The creative team also created an animated film and broadcasted it across Canada on CBC Television.
Creating Resources
This series moved our Learning Bird team, and we immediately saw the educational value in Chanie's story. All former educators, three of our content creators decided to use this collection as inspiration. They built educational resources to support its use in the classroom. The result was a trio of resources to support English language arts and history instruction for grades 10 and 11.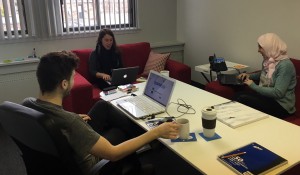 The first resource the team created was a podcast, "Discovering the Secret Path." This short audio piece by Daniel Corber introduces the Secret Path project. It shares Downie's story and his role in retelling Chanie Wenjack's story. It also provides crucial information about residential schools and their role in Canada's history.
The next resource is a video by Aya Salah. It analyzes Downie's poetry and lyrics' diction, themes, structure, and literary devices. The video focuses on the poem "The Stranger," breaking it down to examine the poem's tone, style, and word choice. It then explores the themes the poem conveys and its structure. This resource provides a great way to introduce this title within an English language arts context. It can support instruction to analyze poetry, use literary devices, or explore themes in a text.
The final resource, created by Natalie Gilbert, is a package of activity worksheets. It provides educators with four different ideas for projects and activities to bring the book to life in a classroom setting. Educators could incorporate these projects into an English class, a visual arts class, or even a history class. Projects range from a mini-research project, where learners research new concepts or terms using a KWL chart, to a personal reflection document where learners outline the emotions evoked when reading the book.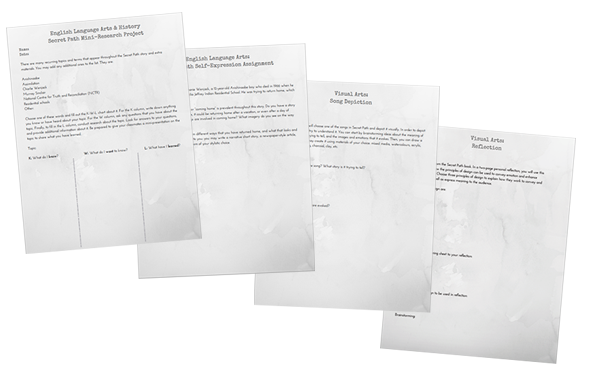 Download a copy of this worksheet package (Mini Research Project, Self-Expression Assignment, Song Depiction, and Reflection).
Use These Resources in Your Classroom
These resources can help educators weave this valuable title into their instruction more efficiently. They make using the content in context with their core subject areas easier. In the process of creating these resources, our team developed a stronger understanding of and appreciation for Downie's desire to share Chanie's story and the even greater need to educate and share resources on the mistreatment of Indigenous children and their families by Canada's residential school system. We hope that by including content like this, based on strong and insightful stories, we will help in the education process and step forward on the road to reconciliation.
We want to work with you to bring Indigenous digital content into your schools and communities across Canada and provide technological and pedagogical support to the schools, educators, and learners who need it most. Contact us to learn more about how we can work together to benefit your school or community.