Canada 150? Celebrating the Histories of Indigenous Peoples in Canada
Canada is poised to celebrate its 150th birthday as a nation. This means communities across Canada, big and small, are preparing to commemorate and recognize Canadian identity and the nation's history. In most Canadian history classes, learners are learning about the many achievements that have been made over the past century and a half and how important it is for us to celebrate them. Artistic displays, beautiful fireworks, fun family activities and many other events have been planned for July 1st and the days surrounding it. If you search Canada 150 online, the top hits are mostly government-run websites endorsing various celebrations across Canada. Last year, the federal government offered funding to municipalities and cities to organize local events for the celebrations. As your learners wrap up their school year, they are probably hearing a great deal about Canada 150 in the news and wider community.
Canada 150?
For some learners, however, this time may not feel very celebratory. Canada's Indigenous population struggles with the concept of celebrating 150 years of what many consider colonial rule. Adam Beach, a Saulteaux Ojibwe actor participating in the Canada 150 celebrations, said he felt as though he was trying to "balance on the edge" of celebrating Canadian culture with the historical and modern realities of the treatment of Indigenous Peoples in Canada. Educators should know that our learners may not understand why Canada 150 is controversial. It is important for learners to listen to and understand Indigenous narratives about Canada's history during this time of celebration. Below are two stories from an Indigenous leader and artist, highlighting how Canada 150 celebrations fail to capture and acknowledge the importance of Indigenous history in Canada that you can use as discussion points with your learners throughout the year.
Grand Chief Derek Nepinak
Several Indigenous leaders, like Grand Chief Derek Nepinak of the Assembly of Manitoba Chiefs, have protested both the amount of money being spent on the Canada 150 celebrations and the hype surrounding the planned events. The Grand Chief, who will walk 120 km in protest, states his walk will symbolize the resilience Indigenous people have shown in the face of what has happened to them since confederation. In an interview with CBC News, Nepinak stated, "We don't have a lot to celebrate when it comes to 150 years of assimilation and genocide and marginalization." Many Canadians share this viewpoint, arguing that amongst all the fanfare and funds poured into commemorating this anniversary, the government continues to inadequately acknowledge the numerous shameful events and experiences regarding its treatment of Indigenous Peoples.
Nadya Kwandibens
Nadya Kwandibens, a celebrated Indigenous artist from the Animakee Wa Zhing First Nation, recently shared with CBC that she would be boycotting Canada 150, stating, "The way I see it is these celebrations are a celebration of colonialism and, as an Indigenous person, I'm choosing not to celebrate colonialism." Nadya's photography has been showcased in galleries, media festivals, and CBC's 8th Fire. She uses photography to share the struggles and successes of Indigenous Peoples, with a special focus on portrait photography. In her artistic statement on her portfolio website, she shares:
"We, as Indigenous people, are often portrayed in history books as Nations once great; in museums as Nations frozen stoic; in the media as Nations forever troubled. These images can be despairing; however, my goal seeks to steer the positive course. If our history is a shadow, let this moment serve as a light. We are musicians, lawyers, doctors, mothers, and sons. We are activists, scholars, dreamers, fathers, and daughters. Let us claim ourselves now and see that we are, and will always be great, thriving, balanced civilizations capable of carrying ourselves into that bright new day."
Reconciliation
The Honourable Justice Murray Sinclair has stated that "education got us into this mess, education will get us out of it," regarding the atrocities committed in residential schools and our need to participate in reconciliation. The Truth and Reconciliation Commission of Canada has created action items: ways in which governments, institutions, and individuals can and should participate in acts of reconciliation. Let's take the opportunity to help our learners recognize that while Canada 150 can be celebrated, there is a difference between commemorating the century and a half since the signing of the country's confederation and the fourteen millennia of Indigenous history on this land. We can, and should, showcase and celebrate this much longer historical identity. We want to share with you some of the events happening in celebration of Canada 150, which also highlight reconciliation so that your learners can participate in some of their own actions of reconciliation.
Clean Water Birthday Project
A group of grade 7 students at Ian Bazalgette Junior High School is celebrating Canada 150 by raising awareness about clean water issues on First Nation reserves in Canada. After their teacher shared documentaries about water issues on First Nation reserves, these students petitioned their municipal, provincial and federal government to use some of the funds slated for Canada's birthday party towards water cleanliness and safety. They've dubbed their program the Clean Water Birthday Project. The students also used a popular viral video style, the Mannequin, to capture facts to share with other young people about the water crisis. Awareness campaigns like these could be a great way for you and your learners to recognize and support Indigenous Peoples in Canada and some of the struggles they face in accessing essential services like clean water.
Kanata Festival
A special festival called the Kanata Festival is being held over the Canada 150 celebration weekend. The festival, being called a "festival of reconciliation," features a map of Turtle Island painted across most of the space used for the event. The aim of the festival, held in partnership with the Vancouver Native Housing Society, is to raise recognition about the lack of safe and affordable housing for many Indigenous Peoples in Canada. While educating those attending the event, the organizers also hope to leave an impact on the community by hiring Indigenous employees and leaving behind a legacy/permanent structure after the event:
"The Kanata Festival will be a celebration and performance space, a number of the iconic structures will be part of a monumental art project that will remain as a legacy piece after the festival. The Kanata site will be the launch event for the creation of the first, culturally accurate, location-based Indigenous Knowledge Network of and about Indigenous people, their place names, their traditions and their culture."
Reconciliation, Canada 150 and the Classroom
While Canada Day is celebrated in July, when learners have already left the classroom for the adventures and fun of summer, talking about and teaching the issues surrounding Canada 150 can happen at any time during the school year. The following is a school unit appropriate for grades 6-10 that can help you discuss the controversy of Canada 150. It includes a digitized, narrative version of the wonderful KAIROS blanket exercise and activities that introduce learners to the history of the land now known as Canada. In this unit, you will find:
A video discussing activism around the celebration of Canada 150
A video narrative of the KAIROS Blanket exercise, covering 500 years of Indigenous experiences and history 
A historical timeline research project highlighting the histories of Indigenous Peoples on the land called Turtle Island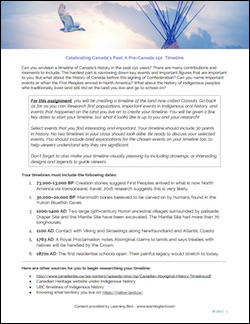 A role-playing activity on a reimagined Confederation Conference, where learners get to create a new Canada based on their values, recognizing groups not included in Confederation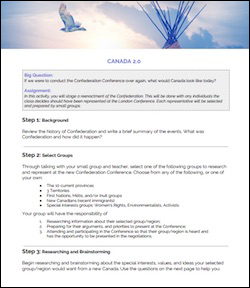 Feel free to use this content with your learners. If you are interested in learning more about content resources for your classroom, contact us.