The Anishnaabemowin Project at Sagamok
Over the last three years, Learning Bird has collaborated with Sagamok Anishnawbek to develop digital resources for their Anishnaabemowin Project. Sagamok Anishnawbek created this project as part of the Nation's commitment to language and culture revitalization. The Nation is helping community members reconnect with their language and culture and ultimately wants to see Anishnaabemowin spoken again by families. The Anishnaabemowin Project provides a way for learners to experience the language through the community's lens and hear it spoken by local Elders, Knowledge Keepers, and fluent language speakers. 
Sagamok Anishnawbek is building new language learning resources and learning opportunities for all of its community members. The Nation believes that it may become a race against time to preserve their language if they don't increase the number of community-driven learning opportunities, as they are losing Elders and fluent speakers every year. This video project provides a way for community members both near and far to participate in the learning and supports a self-guided, self-paced learning model that works well for language instruction.
The Anishnaabemowin Project features 75 videos that showcase the language as it applies to the community's history, identity, land, and relationships. These videos include a mix of vocabulary lessons, conversations, songs, prayers, and interviews. The combination of video formats and styles supports the project's goals of increasing language fluency, building speaking capacity, encouraging discussion, and preserving the local dialect. 
Learning Bird is proud to have been a part of this project. We worked with a local project coordinator at Sagamok Anishnawbek to design, develop, and produce the videos. We collaborated on the selection of video topics and chose the words and sentences featured in each. From there, we worked with the community to arrange interviews with Elders and community members to gather the required audio and video footage for the videos. 
The project coordinator worked with the local Elders, Knowledge Keepers, language speakers, and dedicated community members to translate words and phrases from Anishnaabemowin to English and write out the subtitles for any interviews and video conversations in Anishnaabemowin.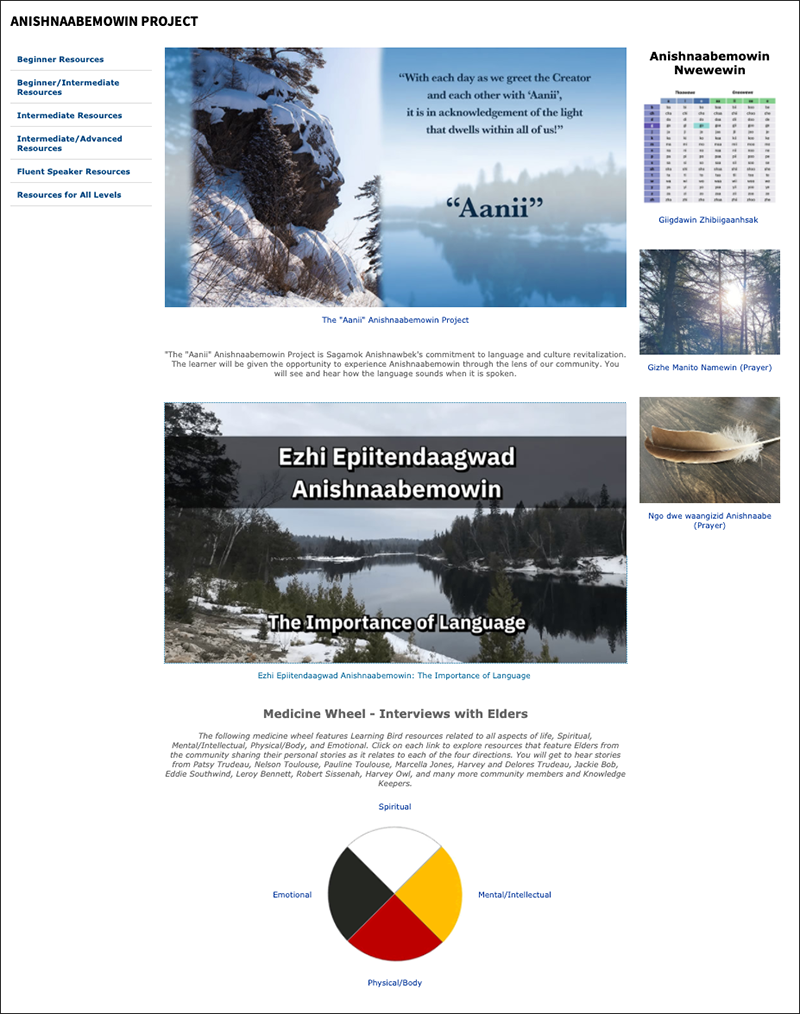 Our team then took all of the video elements and created cohesive sets of videos with specific goals: vocabulary instruction, storytelling, conversational interviews, and knowledge sharing. There are many different uses for the videos and as a long-term resource, they will help people of all ages and levels learn and experience Anishnaabemowin language and culture.
The project is available on the Sagamok Anishnawbek Education website. Resources are divided into a few different ways for easy navigation. Learners can access the videos by language competency level (beginner, intermediate, advanced, and fluent speaker resources) or view Elder interviews based on the Medicine Wheel topics (spiritual, mental/intellectual, emotional, and physical/body). 
The resources, along with 25 additional videos we created with the Nation prior to this project,  are presented on the Learning Bird Platform as either stand-alone videos or resource kits, with related videos and learning activities grouped together. These materials are also available to educators in the community, from daycare through to adult education.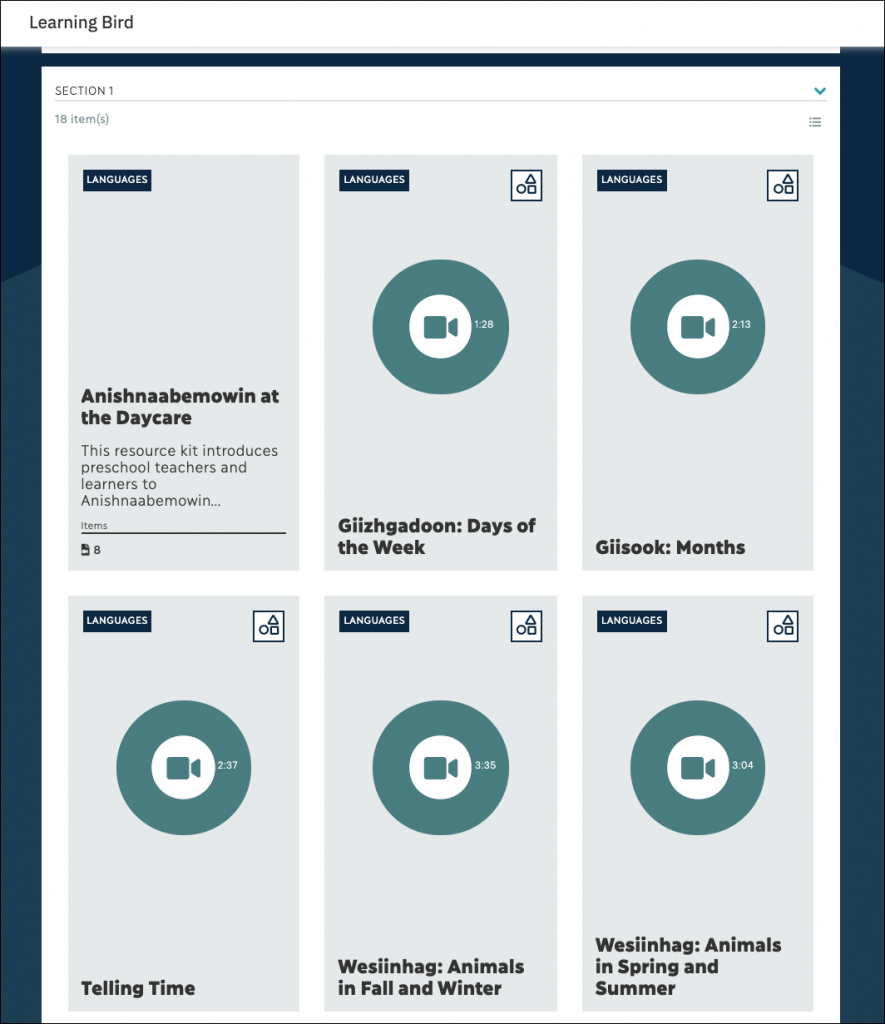 Funding for this project was partially provided under the Aboriginal Languages Initiative grant from Heritage Canada. 
We are very proud to see this project launch, and we are thankful for the opportunity to contribute to the preservation and revitalization of the Anishnaabemowin language. Congratulations to everyone involved. This is a very impressive project that we hope will make a positive impact on the preservation and revitalization of Anishnaabemowin in your community and beyond.