Reintroducing Learning Bird
As consumers, we automatically gravitate toward applications that are simple to set up, easy to learn and work seamlessly on all of our devices. We enjoy tools that empower us without getting in the way. Naturally, teachers feel much the same way about the digital tools they use in their classrooms. This is why we've completely redesigned the Learning Bird user experience, so you can more easily locate and use our great content in your classroom.
New search filters
We've redesigned how we categorize our content to make it easier for you to find exactly what you are looking for. Subjects are now part of the filter panel so you can quickly get to classroom-ready resources.
New class pages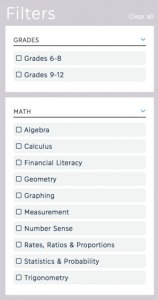 Create a custom class page to share specific Learning Bird resources with your students. You can organize content inside your class page to match how you teach. Simply navigate the app for great content and send it to your class. Your students can then easily navigate to your class without needing to log in. In fact, we removed the need for student credentials altogether!
Co-teachers
Work as a team to teach certain classes? You can now share class duties with a colleague by adding them as a co-teacher.
Beautiful and easy to use on all devices
From tablet to desktop Learning Bird is fully responsive, providing a high-quality experience on all devices for both teachers and students. In addition, the class and viewing pages have been optimized to provide high-contrast, which improves use with projectors, older displays, or for any situations where lighting is a challenge.
We are very excited to roll out the new Learning Bird platform. It is based on real-world feedback from our community partners across Canada, in a spirit of partnership and collaboration. We look forward to your continued feedback and ideas about how we can make Learning Bird even better. Please reach out to me personally to share your ideas or comments. Let's work together to bring classroom-ready content created from Indigenous perspectives to classrooms from coast-to-coast!