International Year of Indigenous Languages
One of the ways we understand the world around us is through the language we speak. Words in our language help to frame our culture, our world view, and even our behaviours. Without the ability to speak and understand our languages, we lose access to a certain depth of understanding when it comes to our world view and our culture. Many Indigenous languages around the world are in danger of disappearing, for a variety of reasons. In Canada, assimilative policies such as the Indian Residential School System and the Sixties Scoop are in large part to blame for these language losses.   
The United Nations has declared 2019 the International Year of Indigenous Languages (IY2019). The goal of this year is to raise awareness of the world's Indigenous languages to benefit these language speakers and to foster an appreciation of the contributions they make to our world's cultural diversity. 
Governments, organizations, and businesses have partnered with UNESCO and taken action to promote the use of Indigenous languages, to provide access to education in and about Indigenous languages, and to support the revitalization of Indigenous languages this year. Perhaps even more important though, are the efforts communities, schools, and individuals across the country are making to spread awareness of the beauty of their languages. One such example is the students at Allison Bernard Memorial High School in Cape Breton, Nova Scotia, who translated and recorded a cover of Blackbird by the Beatles in Mi'kmaq.
With both National Aboriginal History Month and National Indigenous Peoples Day coming up, it seems fitting to celebrate the histories and worldviews held in Indigenous languages by highlighting the resources we have created in collaboration with our partners. The teachers we work with want to see their students using their own languages to communicate and in their everyday interactions.  The digital language resources we create with our partners help students learn their mother tongue and focus on using words and phrases in authentic contexts. We are proud to feature resources that support listening to, learning, and using six different dialects from across Canada. The resources below showcase some examples of what we've created for each dialect.


Cree (th)

Created with: Nelson House
In this video, students learn Cree words for different types of trade and travel by comparing the past and the present. Students are also introduced to the concept of sustainable development.
This video situates new Cree words into the real context of learning the cultural significance of various forms of transportation, and the types of trade that have occurred over the years. This context will help support students in understanding these vocabulary terms and their usage.


Cree (y)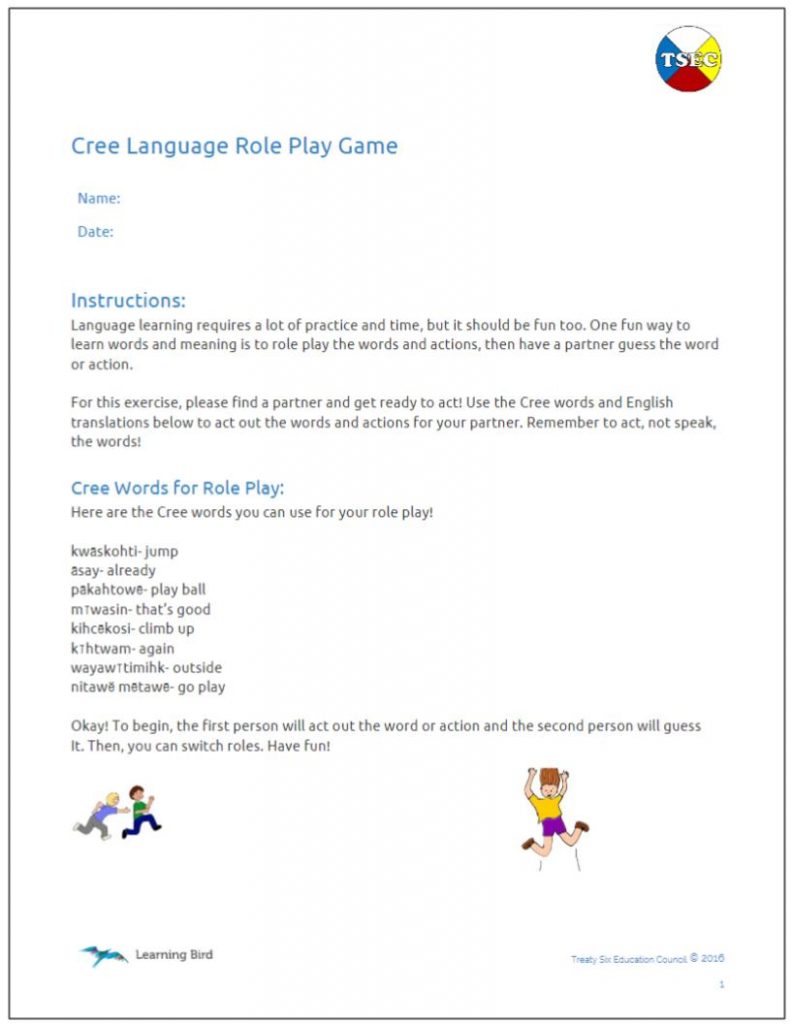 Created with: Treaty Six Education Council
In this handout, students have the opportunity to use Plains Cree words, which they have already learned, in a role-play exercise.
Offering students the opportunity to not only hear and see words but also to speak and act out situations while using new vocabulary is a great way to encourage vocabulary retention.


Mi'kmaw

Created with: Potlotek First Nation
This video gives an overview of the Marshall Decision, a ruling by the Supreme Court of Canada about fishing regulations. It explains how the ruling came to pass and its importance for the Mik'maw Nation.
It is important that students see how language is used in everyday and current contexts. This video teaches language while also teaching about an important legal victory for the Mi'kmaw Nation that continues to have impacts today on commercial fisheries in Nova Scotia.


Oji-Cree

Created with: Simon Jacob Memorial
This resource helps students learn how to use some basic sentences to express their emotions in Oji-Cree. Students are shown a picture of a person exhibiting an emotion along with the sentence in Oji-Cree. Students then guess the corresponding sentence in English.
Language is, first and foremost, a tool for expressing ourselves. Teaching students how to recognize, identify, and explain their emotions is an important part of a teachers' role. Showing students how to do those things in their own language is a powerful experience and may allow students to express more than they could otherwise in English.


Ojibwe

Created with: Lac La Croix First Nation
This video looks at traditional methods of harvesting wild rice in Lac La Croix. It also explores some important ricing terms in the Ojibwe language.
This video stresses the connection between language and culture. Helping students learn their language through participation in cultural activities is a great way to add a depth of understanding to both the traditions and words.


Saulteaux

Created with: Omiishosh Memorial School
In this video, students learn from Pauingassi Elders about medicines for their heart, toothaches, and skin. Students also learn about some places where these medicines can be found.
While learning vocabulary words is an important part of introducing a base level of knowledge about a language, it isn't until language is used to truly communicate full thoughts and ideas that we are able to really understand. This video offers the opportunity to learn about traditional medicines in Saulteaux.
You can find more resources to support these dialects on Learning Bird by browsing by 'Languages' and then filtering to find resources for the dialect of your choice.
I have also shared a list of links below to help you learn more about Indigenous languages in Canada, and about the International Year of Indigenous Languages declaration.
#IndigenousLanguages on Twitter
If you are interested in collaborating with us to create digital resources to help your students learn their language, reach out to us at achieve@learningbird.com or call 1-888-844-9022.