Community Spotlight: Nisichawayasihk Cree Nation
We've had the pleasure of working with Nisichawayasihk Cree Nation for the past 3 years and are proud of the work we've accomplished together so far. Nisichawayasihk Cree Nation is a vibrant First Nation based in Nelson House, Manitoba. The Cree name Nisichawayasihk translates to "where the three rivers meet" and describes Nelson House located at the convergence of the Burntwood River, Footprint and Rat Rivers.
During the first year of our collaboration (2016-2017), we visited Nisichawayasihk Neyo Ohtinwak Collegiate and installed a Learning Bird Nest server so teachers could access the Learning Bird platform without having to rely on connectivity. This allowed them to view and use resources created in collaboration with other First Nations, and inspired the direction they would take for the creation of their own resources.  We worked with teachers and community members to create classroom resources that focused on outdoor education, community history, sustainability, and language. "There's a strong push to bring in cultural and local components into the classroom and to make these resources accessible to teachers. It also seems that the teachers are doing a good job of bringing in current events or social issues from the community", said Rebecca Smith, Account Lead at Learning Bird. As an example, one of the topics they focused on was telling the story of a big project by the Manitoba Hydro energy company and its impacts on communities in the area. "Understanding how this development can bring both positive and negative impacts to land and people is really interesting and important", said Rebecca.
The school is committed to creating positive learning opportunities that are consistent with the community's traditions, customs, and culture. This is something that Rebecca witnessed while she was onsite.  "The teachers strive to bring opportunities for the students to practice their traditional ways of life. There are outings on the land, and they have a separate building for survival skills and outdoor education activities", said Rebecca. One of the resource kits the community worked on was about outdoor survival skills and gear.  Students are taught about the techniques and gear used by Indigenous peoples to survive in the bush for thousands of years. They also have a chance to research a lost life skill and recreate a piece of survival gear. The resources also integrate Cree language (Th dialect) for naming tools and skills.
During the 2017-2018 school year, the principal, Nic Campbell, asked teachers to think of topics they needed resources for. There was a strong focus on developing culturally relevant materials for math and science. For example, one of the science topics was on Astronomy and First Nations. These resources explore what the stars can teach us about Cree culture and storytelling. Other topics of interest included genetics, reproduction, factoring, and hydroelectric power.
This year, Rebecca visited the school for two days to deliver training to the teachers. When asked to describe her experience in community, Rebecca said "It's a close knit and welcoming community. When I drove up to the store, people from the community were joking around with me because my car was too big for me. They were right, the car was huge! So yes, both the community and school members were very welcoming and had a good sense of humour." During her visit, Rebecca updated the Learning Bird Nest server, delivered group training, and then had a chance to work one-on-one with the teachers. "I think the teachers appreciated the hands-on aspect of the training. They were able to work with the resources, got a feel for what was available on the platform, and practiced working with different resources."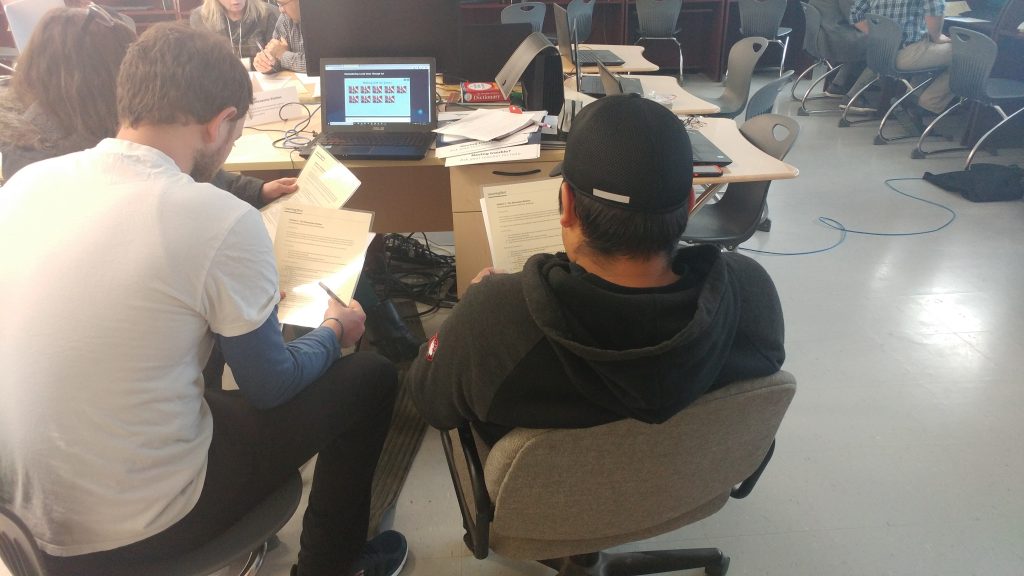 During one-on-one coaching, Rebecca was able to sit down with teachers to talk about the topics they would be teaching. She worked with them to find resources on the platform that they could use to support their instruction. Rebecca enjoyed the one-on-one time with teachers, as this allowed her to connect at a more personal level and develop stronger relationships.
Working with Nic and his team has been a real pleasure. We are proud of the resources we've collaborated on so far and we hope that teachers and students will enjoy using them in their classrooms. We would like to thank the team at the school for their generous time commitment to the project, and for their warm hospitality. We look forward to a continued and successful partnership.