Community Spotlight: God's Lake Narrows
Learning Bird is pleased to welcome Gods Lake Narrow's First Nation School as a new partner this year. Rebecca Smith, one of our Education Account Leads, recently made two trips to the community to train teachers on our platform, and to plan the classroom resources that we will create together for the school.
"Everyone was exceptionally warm and welcoming. It's a very safe community. The innkeeper told me about how everyone knows and cares for each other," said Rebecca.
Mackenzie Rostad, a Learning Bird Content Creator, accompanied Rebecca on her second trip this year to the community to collect footage that will be used to create resources for teachers and students. Several of the resources we will be creating in collaboration with God's Lake Narrows School are centred on the land. "Some of the resources are about snaring or fishing activities, some of them are about the ways that people lived, and others are about the community itself," said Rebecca. She experienced a few of these activities firsthand when she went ice fishing with community member Jackie Kanabee. "Jackie was just amazing throughout. He's very knowledgeable and a really nice man, and I appreciated him taking us out to experience ice fishing."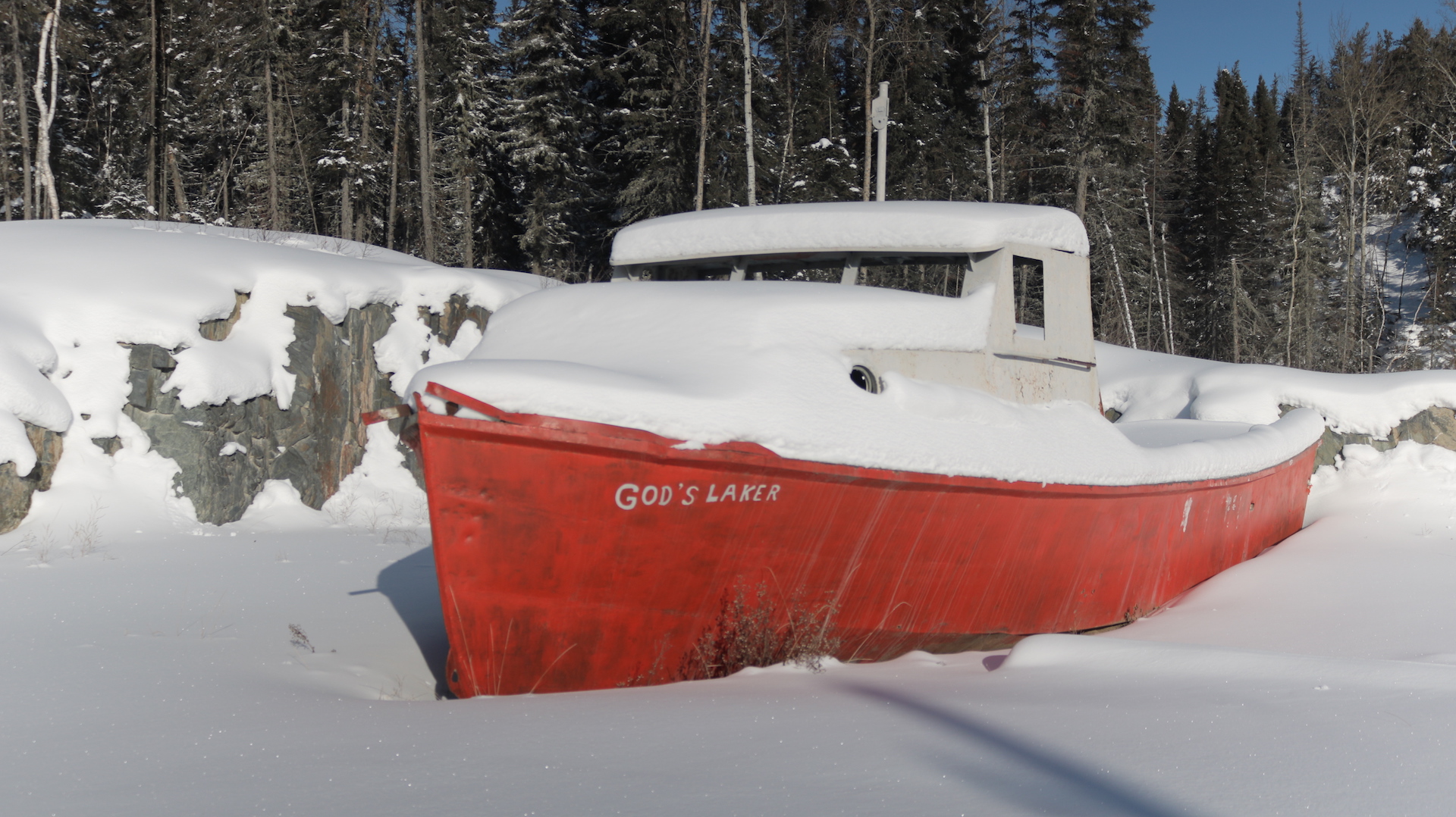 Another resource kit we're working on focusses on life in God's Lake Narrows in the past compared to life now. One community member, Goldie Healey, sat down for an interview with Rebecca and Mackenzie, and talked about how life in the community was quite different in the past. She describes how transportation has changed; in the past, canoes were the primary mode of transport, but now most people use motorized boats. Also, a lot of time was spent outdoors, especially in the summer months. All members of the community would help out with the daily chores of getting wood or preparing food, and celebrations would be attended by everyone. This strong sense of community is something that has endured in God's Lake Narrows.
The community coming together was something Rebecca experienced directly while she was in God's Lake Narrows. When the power went out for a brief time at the lodge where Rebecca was staying, everyone came together.
"We all gathered together in the main lodge because they had a wood fire, and some candles and lamps. Basically, we were all going to sleep on couches near the wood stove to keep warm, but then the power came back on. It was an adventure, and I really saw how people were there for each other and willing to help out when things like this happened."
Overall, Rebecca and Mackenzie really enjoyed their time in God's Lake Narrows. Rebecca worked with teachers one-on-one to ensure they can get the most out of our platform, and the resources we've created with other partners. She also helped Mackenzie conduct interviews with several members of the community. They heard stories from the past and participated in hands-on learning experiences on the land. In the coming weeks, the Learning Bird team will use the footage and materials gathered, and work with teachers and community members to create custom content that will help their students connect well with what they are learning, and will help preserve the stories of Elders and Knowledge Keepers in the community for future generations.