Teacher Coaching Community Visits
This past month has been an exciting time for the Learning Bird team. We've been busy travelling to the communities we work with to support educators, show off the fantastic lessons that communities have created, and collect resources from within communities to create even more lessons. We wanted to share some of our experiences on these community visits. Four team members have shared their most recent school and community visits below. During these trips, our team connected with educators one-on-one, and we had some great discussions along the way.
Cross Lake, Manitoba

I'm Peter, an Education Account Lead at Learning Bird. I work with educators and administrators to help integrate Learning Bird resources into their classrooms. Recently, I got to see the beauty of Northern Manitoba when I visited Cross Lake. I spent two days working closely with educators at Mikisew High School. I also participated in various activities and events while in the community.
My work with educators consisted of helping them develop ideas to integrate more digital resources into their teaching practice. I met with educators in small groups, discussing pedagogy and digital technology. Educators spoke of the challenges of including digital resources in a remote community. I worked with them to address those challenges.
While on-site, I also had the chance to run a Professional Development workshop. It focused on activities that educators could run in the classroom with limited access to digital technology. Educators had the chance to share some of their own strategies with one another. They discussed how they would use these new activities in their pedagogy.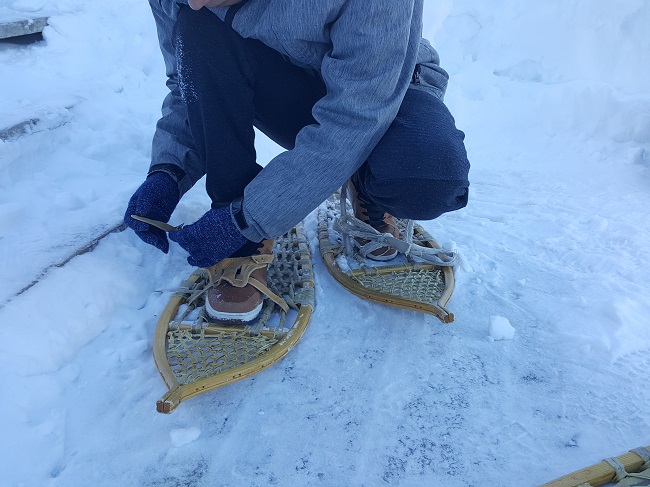 Mikisew High School
The school community at Mikisew High School welcomed me, and I was able to help out during the school's Mini-Festival. I led my group of learners through various games and challenges happening all around the school. Activities included Moose Calling, Trap Setting, Snowshoe Racing, and many others.
One evening, the community gathered at Cross Lake Sports Complex for a Jigging Contest. This was a great opportunity to spend time with Mikisew High School educators and staff outside the school. I feel incredibly privileged to have been able to partake in these events and activities. I am learning more and more about Northern Manitoba as time goes on and very much look forward to more community visits as soon as I can. A big thank you to all the Mikisew educators and staff for making me feel so welcome.
Lil'wat Nation, British Columbia

Hello! My name is Joelle, and I am the Education Training Manager at Learning Bird. My goal is to ensure that our training and workshops go smoothly and meet the expectations of our partner communities and schools.
At the beginning of the month, I had the pleasure of visiting Xet̓ólacw Community School in Lil'wat Nation for the second time this year. It was truly a great experience.
Upon arrival, I was welcomed with open arms by all staff members. Kevin, the wonderful and competent IT technician, helped support the update of their local server, which went smoothly. This enabled me to spend two days coaching educators on finding content on the Learning Bird platform to help support their instruction.
We revisited some content we worked on together last year in math, like "Similar Figures of Canoes," and cultural content, like "Importance of Land to the Lil'wat/St'at'iyém'c People," which was created to support their local "Walking the Land" curriculum. I also worked with the science and math educators to develop the content we are collaborating on this year. They've got some great lessons coming up!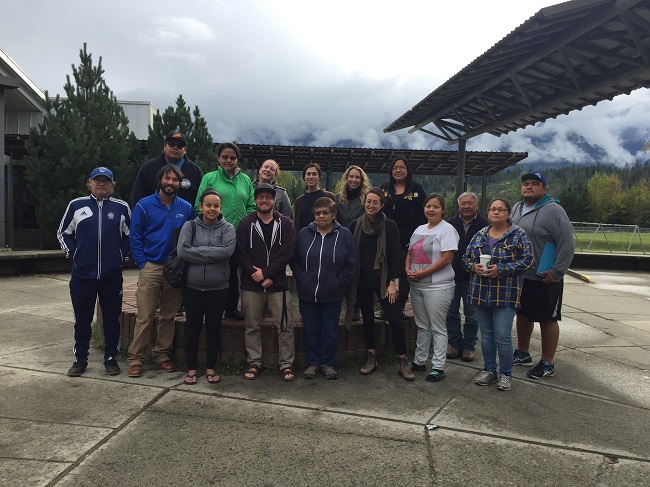 One-on-One Conversations
What I particularly enjoyed from my interaction with educators on community visits is the opportunity to have one-on-one conversations with each of them. This gave me insight into their personal successes and challenges in the classroom. I was able to adapt my coaching sessions to try and meet their needs. This also gave educators room to share their thoughts and feedback about Learning Bird which we greatly value.
While in Lil'wat Nation, I visited the community cultural center, where I finally met the lovely Lois. After speaking with her many times over the phone, I was glad to meet her face-to-face. I also have to admit that I went on a little shopping spree there and bought some lovely local items. From the beautiful mountains to the wonderful educators and staff to learners scaring me from behind doors every time I walked out of a classroom, I do have to say that this was an unforgettable trip. A big thank you to the principal, Rosa, for helping organize the community visits and to everyone there for being such an awesome group to work with.
St. Theresa Point, Manitoba

Hi, my name is Rebecca, and I'm an Education Account Lead at Learning Bird. My role is to support educators in finding different ways to integrate Learning Bird lessons into their teaching practice.
I recently visited St. Theresa Point First Nation in Northern Manitoba. I had a wonderful time meeting with educators at both the Middle Years School and High School. While in the community, I had the opportunity to meet with educators individually or in groups of two.
During our sessions together, we were able to look at the new lessons we collaborated on with communities across Canada, talk about integrating these lessons into teaching, and discuss the benefits and challenges of using technology in the classroom. I also had the chance to review some lessons with educators while meeting with them. You can expect to see some great lessons from St. Theresa Point soon!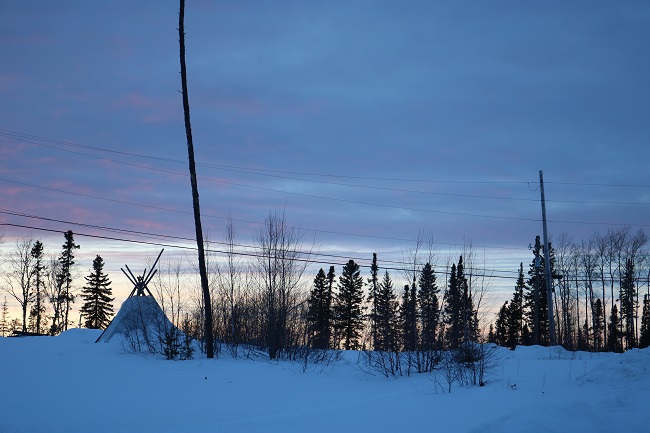 Great Discussions
I had a great time meeting with educators during this trip. This one-on-one coaching style enabled me to have great discussions with educators on topics ranging from preserving language and teaching traditional values to different ways of connecting with learners. These discussions are great for helping me understand the school and the learners more. With these understandings, I can support educators even more by helping them find lessons that will meet their goals for their learners.
I really enjoyed being in St. Theresa Point at this time of year. It was still light out after school, so I could get out and walk around the community. Seeing more of the community and the land's beauty enabled me to see some of what makes St. Theresa Point so special. The staff at both the Middle Years School and High School are always warm and welcoming. They care very much for their learners and want to do whatever they can to ensure they receive a good education covering the provincial curriculum and local traditions. The welcoming feeling I receive from everyone I see and the educators' passion for their learners make St. Theresa Point such a wonderful place to visit. I want to thank all the school staff for helping to make community visits so memorable.
Hatchet Lake Denesuline Nation, Saskatchewan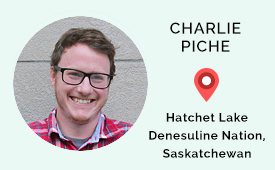 My name is Charlie, and I am an Educational Account and Content Lead at Learning Bird. My role involves working closely with school administrators, educators, and other community members to develop digital educational resources that address their schools' needs.
I have travelled around the country on nine different airplane models over this past year, visiting schools. Most recently, I visited Hatchet Lake Denesuline Nation and the town of Wollaston Lake in Northern Saskatchewan. I met with educators at Father Megret High School one-on-one to discuss their needs and collect content that we will use in the lessons we are creating together.
Interviewing Educators
One of the educators I sat with, Mary Ann, recorded an interview to incorporate into the lessons we are collaboratively developing. We had a detailed discussion about topics that ranged from the upcoming North of 60 Agreement to her work translating the Dene language. She also provided the narration for a reading of the legend of Thanadelthur, the version told by her grandmother. Mary Ann has long worked to preserve and invigorate language and culture in the Denesuline community. I am excited and humbled to assist her through our work together.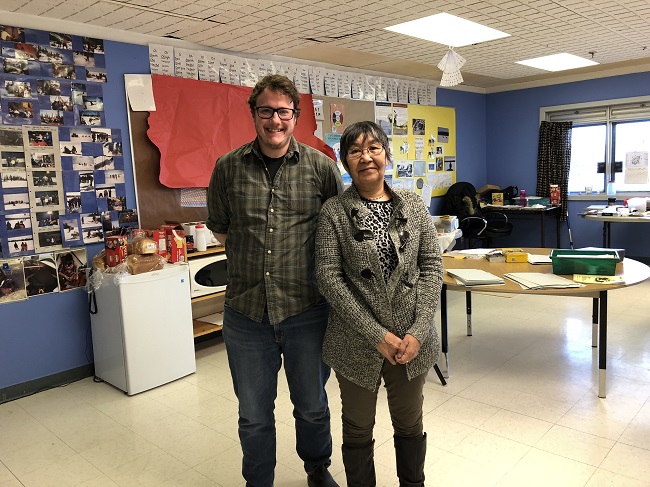 Saskatchewan does not have daylight savings time, so its clocks never change throughout the year. This meant that, while it was dark in the morning, the sunny days lasted well into early evening, so I had some time to explore. Hatchet Lake is a special place. While I was there, it was cold (-40℃!). That did not stop me from going out for a long walk on the ice road on top of the lake. I was last in Hatchet Lake before the lake froze over in the fall. A lake barge connects the town to the highway during the warm months. In the winter, the ice road provides a more regular connection. I really enjoyed my time at the school and our work together. The staff was exceptionally warm and welcoming, and I look forward to my next community visits there. Masi chok!
---
These visits are some of the most recent trips our team has taken. Our team has the privilege of meeting many knowledgeable people and experiencing some amazing events in our travels across Canada. We will continue to share our experiences and stories as we partner with additional schools and see more of this great land.
If you are interested in learning more about how we collaborate with schools and support educators, or if you would like to see samples of the content we've collaboratively built this year, please contact us.